What Our Guests Are Saying...
"This was our 6th year visiting Bent Creek Lodge. It is so amazing we decided to get married in the beautiful gardens at the inn. Doug and Jodie were amazing hosts and special witnesses at our wedding. We love the delicious breakfasts and the back porch swing is a favorite afternoon relaxation spot. The inn is only about 15 minutes from Asheville and in a perfect location to access hiking and biking trails. Not to mention Doug and Jodie are fantastic mountain bike riders. We even got the chance to ride with them on our trip. We can't wait to return."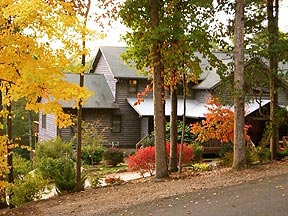 More Online Reviews
click links below
About the Bent Creek Lodge
Bent Creek Lodge was conceived by current owners Doug and Jodee Sellers to be a warm, inviting retreat for Asheville visitors similar to lodges they had visited out west. Construction started in October of 1998 and opened to a full house with six guest rooms in November the next year. The downstairs guest rooms and another sitting room were completed in 2003. All of the exterior posts, the trim, and the siding boards were made from white pine trees cut from the building site. The wide, arched double doors welcome guests to the spacious great room supported by massive oak post and beams also cut from the property. The knotty pine flooring, field stone fireplace and old fashion pool table send visitors back to a simpler time and slower pace. Most are happy to discover they don't have to give up their modern conveniences like central heat and air conditioning, wireless internet and high definition TV's.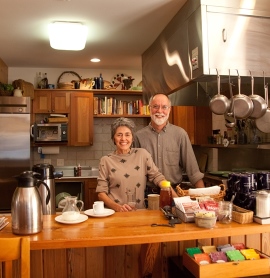 One of the features that make Bent Creek Lodge unique is the open design of the kitchen. Guests can sit at the kitchen bar and watch breakfast being prepared while they share stories and plan their day with Doug, Jodee and the staff. At the back of the lodge each floor has its own outdoor space with the five upstairs guest rooms opening to a balcony for long range views, the great room and dining area opens to a large deck with Adirondack chairs and tables for outdoor dining under the awning. The rooms below open to a large covered deck with swings and rockers overlooking the gardens.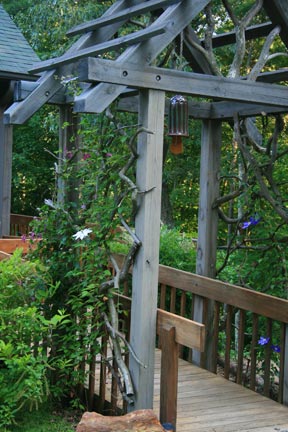 Ten distinctively decorated guest rooms await you with a variety of amenities to fit every occasion from romantic honeymoons to mother/daughter get-a-ways. All have individual heating and air conditioning, private baths, & sensuously cozy linens and beds. All but the Barn Room have private entrances from the decks or balcony. The rooms are supplied with irons and ironing boards, hair dryers, and CD players. Three have whirlpool tubs and two have HD TVs. Perhaps most importantly all are impeccably clean.
From the back deck a winding trail takes you past native perennials, trees and shrubs that host a variety of birds, butterflies and occasional wildlife. You will pass thru gates and under arbors built with rhododendron and locust poles. The wooded trails continue around the 160 acre Riverwind community or up to the Blue Ridge Parkway and the Mountain to Sea Trail.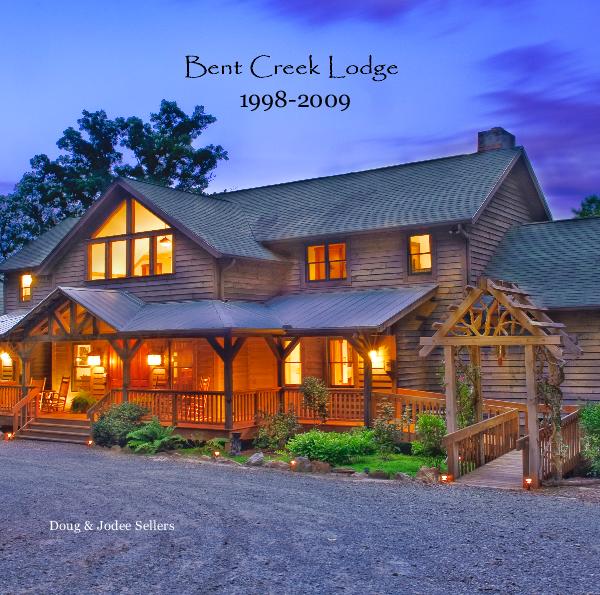 For the complete story of the Lodge from the initial idea to 10 years of operation, browse or purchase the Bent Creek Lodge book at Blurb.com.