What Our Guests Are Saying...
"What a special find for us when we happened upon your Lodge. This, we are certain, will be come a favorite retreat into nature for us thru the years"
~ Don & Mary, Mayfield Village, OH
"Rest and relaxation"
"My husband and I checked into The Bent Creek Lodge Friday, October 29th and checked out on Halloween morning, October 31st. Sure wish it had been longer! We loved our room (The Barn Room on main floor), hiking on their property, and especially the yummy breakfasts! We just were not there long enough! "

/div>
Main Level Guestrooms | Upstairs Guestrooms | Terrace Level Guestrooms | Luhn House
Main Level Guestrooms
The great room and the Kitchen/dining area are also on the Main Level. Those areas open out to a large deck with tables for outdoor dining as well as Adirondack chairs for enjoying the view of the gardens and surrounding forest. The Barn Room is down a short hall and behind the fireplace.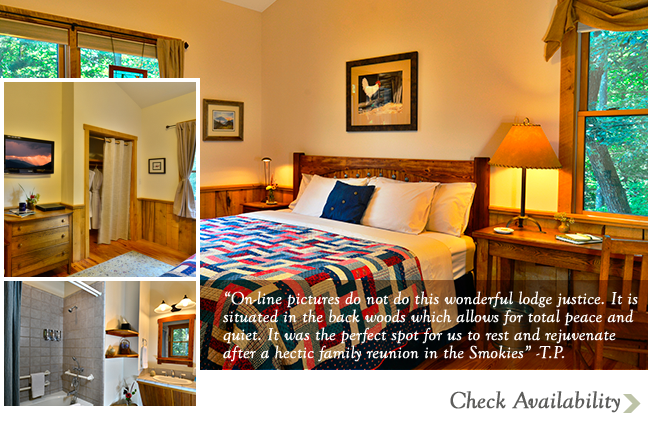 The Barn Room is full of rustic charm and all the amenities of home. It is our handicap accessible room; meeting all ADA codes. Being on the main level, with the ramp to the front porch, guest can come and go with no steps involved. It has a king size bed, larger bath with a whirlpool tub, 32" HD TV with Dish Network, and a writing desk. The tub also has a wall mounted shower head and a hand held shower.
Weekends and Holidays - $170 per night. Mid-week - $145 per night.
Winter Rates – (Jan 2 to March 31) $145 for weekends / $125 midweek).
July & October - all nights are $170.