What Our Guests Are Saying...
"The Bent Creek Lodge is a dream mountain getaway! The lodge is superbly well run and immaculate. The hosts, Doug and Jodee, will make you feel right at home. I can't brag enough about the Bent Creek Lodge...from the outstanding breakfasts to the great hospitality. If you are looking for a nice, quiet getaway...this is the place in Asheville. We are returning again in April. You won't believe this place. Recommend Highly!"
~ Dan and Lori Davis
"The lodge was beautiful! Wonderful views and delicious food! Enjoyed every bit of it....can't wait to come back soon!"
"My wife and stayed at the Bent Creek Lodge two weeks ago. The hosts, the location, the design of the lodge, the mattress and bedding, the food, and the scenery were all TOP KNOTCH. We will definitely be back. "
~ Dan and Deb from Advance, NC

/div>
Main Level Guestrooms | Upstairs Guestrooms | Terrace Level Guestrooms | Luhn House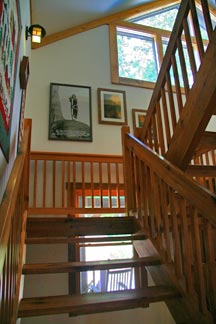 Upstairs Guestrooms
The five upstairs guestrooms can be accessed by going up the open stairway in the great room or from two outdoor stairs from the main deck up to the balcony. The upstairs hall way is open to the entrance area below and has great views out the window wall on the front of the building.
"We have visited Bent Creek at least 5 or 6 times, and this is as good as it gets back on the side of the mountain! When you walk in the door, you are more than a guest - you become part of the inkeepers' family. Immaculately clean, well furnished, loads of amenities and more all make our visits special - we are eager to return, and will do so next October. Let's not forget - the breakfasts are supurb, not just stuff from Costco or Sams either. Made from scratch, the hot dishes make you just groan for more! The best feedback we can give for newcomers - when you return and return again, you know it's special! " ~ The Browns - Lane & Vicki