Join us for an Evening of Fine Dining in Asheville
An evening of Fine Dining in Asheville for your group of 14 or more is one of the most memorable experiences for families, corporate gatherings, or just friends staying at Bent Creek Lodge. The lodge's casual atmosphere and the beautifully presented and delicious meals create an evening few restaurants can match and you don't have to drive home, stay in one of fabulous rooms! Chef Jill and the Lodge staff will cater a three course (appetizer, entree, and dessert) meal for $59 per person (for most choices). The price includes coffee, and tea. 7% Sales tax and 20% gratuity will be added for food and beverage. They need at least two week's notice to plan and prepare for your group's meal. Bent Creek Lodge has a beer and wine license. Contact us to discuss your individual needs for your personalized evening of fine dining in Asheville.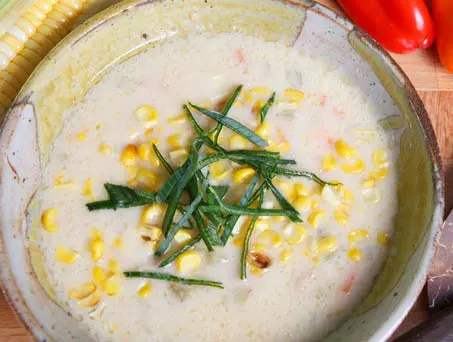 Groups can choose each menu item from options the lodge regularly prepares, or give us a little direction and we will take it from there. No one has anyone has ever been disappointed! Dinners are ideal when your group has reserved the entire lodge. Give us a call to check for availability and start planning your dining event!
A sample of our dinner options for groups
Appetizers
Roasted Sweet Potato Soup with Cilantro Cream
Smoked Trout & Roasted Corn Soup
Roasted Portobello Mushroom Napoleon with Goat Cheese, Black Olive Tapanade & Spinach
Black Eyed Pea Salad with Spicey Shrimp
Entrees
Grilled Flank Steak with a Lime-Chipotle Sauce
Maple-Glazed Cornish Hen with Cider Cream Sauce
Grilled Pork Loin with a Tomatillo Sauce
Salmon with Basil Cream Sauce & Corn Salsa
Desserts
Flourless Chocolate Torte with Fruit Sauces
Sour Cream Pound Cake with Brandied Pears
Apple Pie with Caramel Sauce & Vanilla Ice Cream
Cook Book – Bent Creek Lodge has put together a collection of ninety two favorite recipes with tips and notes.  It is on sale at the Lodge for $20.
Stay in the know! Sign up to receive the Bent Creek Lodge Newsletter, and follow us on Facebook!