Looking for an Asheville Airbnb?
The Luhn House: $400 – $700 per night. Sleeps up to 10
If you are looking for an Asheville Airbnb or vacation rental by owner, consider a stay at the Luhn House, located on the Blue Ridge Parkway 10 minutes from town. We manage the Luhn House for our good friend Marcia Luhn from Melbourne, Fl. It sits on a beautiful 10 acre, wooded lot with its own small water fall, adjacent to our property. The house has three bedrooms and two and a half baths and is about 100 yards up the road from the Lodge. Reservations can be made via our online reservation system or by calling the lodge at 828-654-9040. We look forward to welcoming you in person!
Exterior and Main Level:
The main level includes a fully equipped kitchen with a mahogany, hand carved bar, a great room with massive stone fireplace, a dining area, a laundry and a half bath.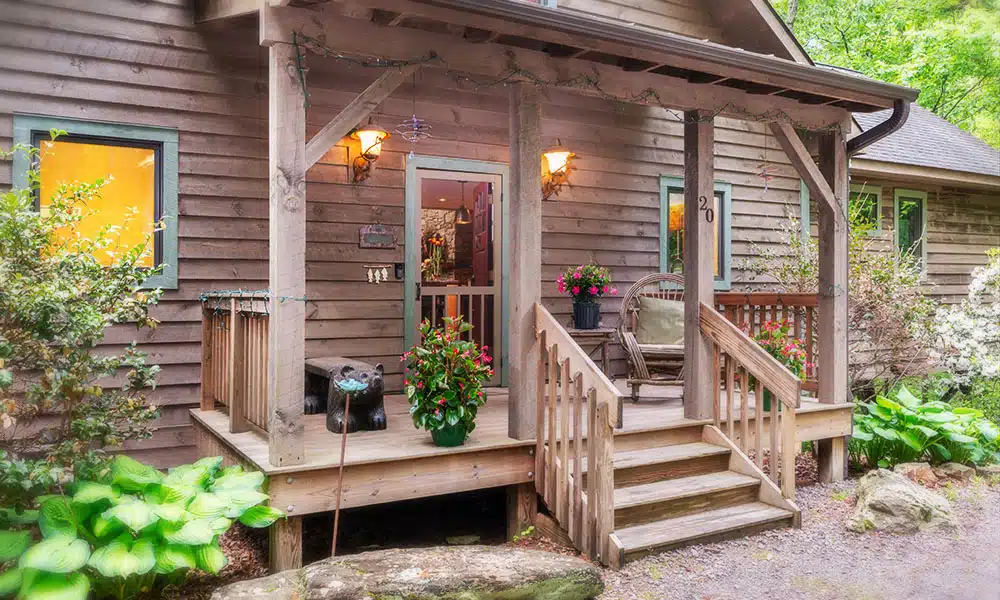 The Bedrooms
The master suite is upstairs and includes a unique queen size, log bed with a large walk-in shower in the bath. The downstairs has one bed room with a queen size bed and one with a king size bed. The hall bathroom has a large bath with a tub & shower combination. On the main deck is a four person hot tub, Weber gas grill and outside dining set. The house also has Direct TV with an HD TV, a VCR, CD player, high speed WiFi and central heat and air. There is also a "Bonus" children's room available downstairs that has 4 bunk beds and a sink area.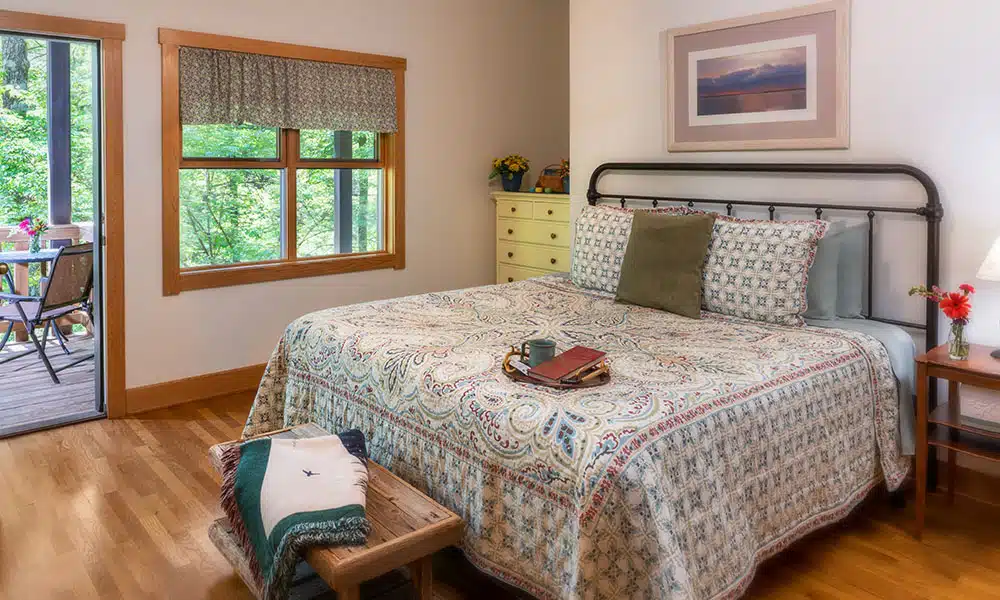 Luhn House Policies
50% deposit is charged at the time of booking. Deposits, less a $25 fee, will be refunded if cancellation is at least 14 days prior to arrival date. Thereafter the deposit is forfeited.
Children of all ages welcome.
Occupancy for up to 6 adults and 4 children when using the bunk room. There is a one time $75 charge for use of the bunk room.
Linens and paper goods are included, bathroom soap and shampoo are not provided.
A $250.00 damage and loss deposit is also charged at check-in. A credit card refund (or check) for that amount will be mailed back to you within 3 days of check-out if there is no loss. If the bunk room is used the $75 charge will be deducted from this deposit.
2 night minimum at our Asheville Airbnb Rental
Payment must be made on arrival for all balances. We accept MC, Visa, American Express, Discover, checks and cash.
13% hospitality tax is in addition to nightly price.
The Luhn House at Bent Creek Lodge This free standing house next to the Bent Creek Lodge is like visiting your friend's mountain home, which they call a "cabin". The high ceilings and windows with stone fireplace and large open spaces are spectacular. The house is in meticulous condition and decorated like a craft gallery. There are 2 outdoor decks, an outdoor grill and hottub. It sleeps 8 to10 but we only used 2 rooms for 4 people each with a private bath.The kitchen has everything you need. The value of renting this house was great ( $400 a night). The lodge itself was new but appeared to be have been there for many years. This location is really in Asheville near the Asheville Arboriteum. Lots of restaurants and stores nearby but the cabin and lodge are set in the woods. We will be back. This house is highly recommended.
Bent Creek Lodge and the Luhn House My family and I love getting together with family members that we don't get to see all that often. There is no better place to do that than at the Luhn House managed by Bent Creek Lodge. The home is beautiful and spacious and nicely maintained. It has all the amenities that we need to accommodate our family. The property that the Lodge and the Luhn house sits on is breathtaking and invites relaxation. We have stayed more than once and plan on staying again. Once we tell our family members that we are going to stay there, everyone wants to join us. The owners of Bent Creek Lodge are wonderful and very gracious. They make you feel like they have known you forever and make you feel right at home as soon as you arrive. If you haven't experienced Bent Creek Lodge or the Luhn House you should. It's a once and life time experience. Great for the entire family or just two of you as a couple. The Best!
Stay in the know! Sign up to receive the Bent Creek Lodge Newsletter, and follow us on Facebook!