Dining is an important part of Bent Creek Lodge–to us and our guests.
When you catch the aroma of freshly brewed coffee (available by 7am) at Bent Creek Lodge, you'll know that breakfast soon follows. Each morning, a full, delicious breakfast is served with seating starting between 8:30am until 9:00am. Guests can enjoy dining indoors or outside on the covered porch. Breakfast always includes a selection of coffee and teas, homemade granola and yogurt, seasonal fruit, and juice. Your breakfast main entree might be an egg frittata filled with veggies and cheese, spinach cakes with tomato gravy, or our delicious whole wheat waffles. Our pledge is, "stay as long as you like and never have the same breakfast twice."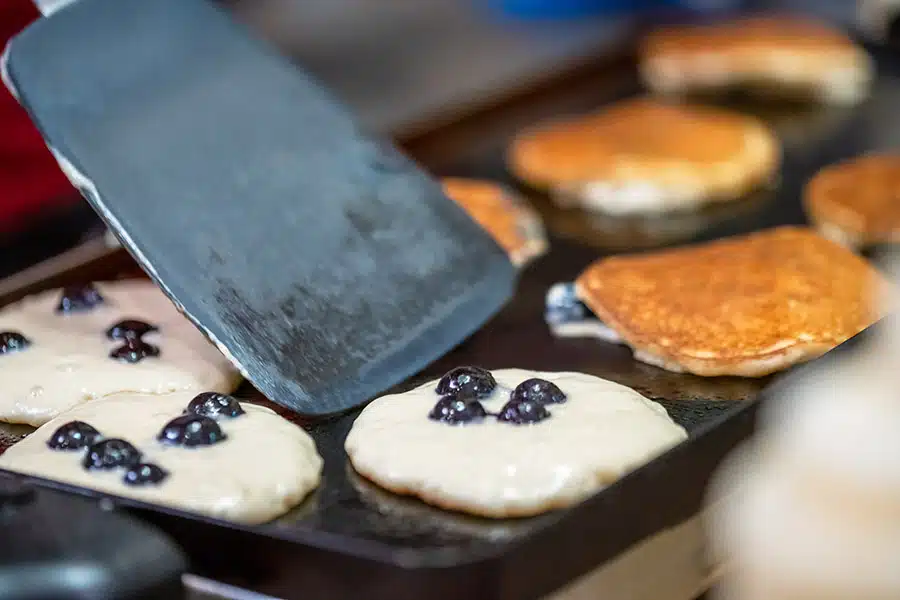 Special dietary requirements or schedules are not a problem. A tasty alternative for any diet from vegan to gluten free is always available. For those with early morning plans, an alternative breakfast is available upon request. Please be sure to let us know of any requirements at check-in.
A Note From the Innkeeper: During Covid-19 times, hotel chains are cutting services and eliminating hot breakfast and offering pre-packaged to-go items like breakfast bars. However, smaller, cleaner B&B's like Bent Creek Lodge, still offer hot breakfast, great coffee and friendly, relaxed service – six feet apart to comply with CDC guidelines. Our guests may choose to sit inside or on the spacious porch overlooking the gardens, majestic woods and bird feeders. We always offer homemade granola over yogurt and fruit juices for the first course; then a second course featuring a hot country breakfast menu that varies each day with sweet or savory selections. Y'all come for a visit — where breakfast is still the most important meal of the day. – Randy
Afternoon Treats
Afternoon treats await your arrival on the kitchen bar along with a variety of beverages in the guest refrigerators and a wide selection of hot teas. Some of the guests' favorites are Reverse Chocolate Chip Cookies, Coconut Macaroons, Cranberry Pecan Bars, and Best-ever Brownies. I once witnessed a guest eat nearly a dozen before his wife pulled him away!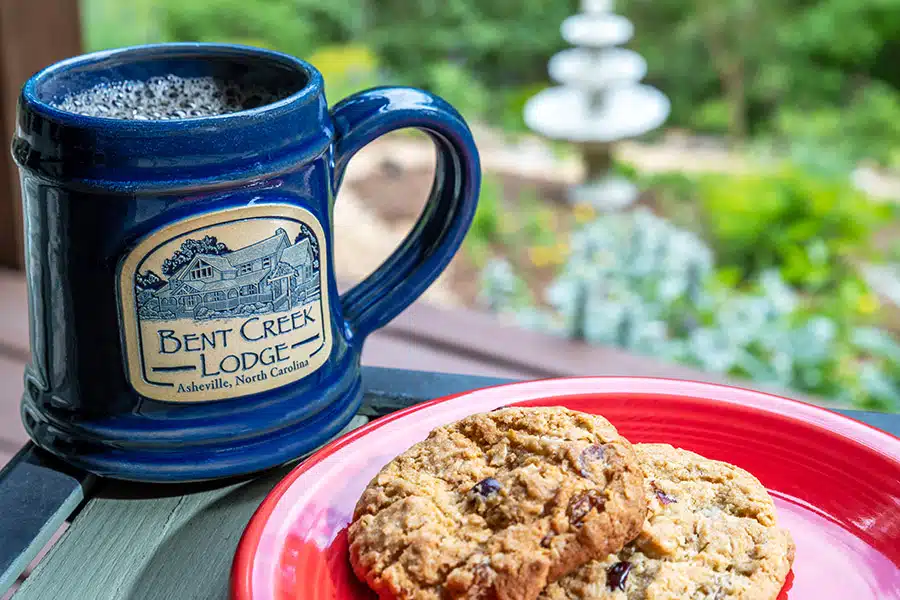 Perfect mountain escape My spouse and I decided to take a last minute trip to the mountains and found this gem. This bed and breakfast is nestled in the mountain but also close enough to the city – close to many attractions to keep you busy the whole time you're there. The property is well maintained and has hiking trails, fire pit, beautiful garden with a map of the area to explore farther. The breakfast was amazing and never disappointed. They even packed up a breakfast To-go when informed we would be leaving super early one morning for a day of adventure. The staff and owner were amazing and extremely helpful with activity and food suggestions. They were very accommodating the whole stay. We had private couple messages come to us and had our room rearranged to fit accommodate the two therapist as well as permission to do Our own couples sip and paint on the back deck over looking the garden. We ended each night with a bon fire at the end of the night. We even had chocolate and a card delivered to our room wishing us a happy anniversary. Highly recommended! We will definitely be returning.
Stay in the know! Sign up to receive the Bent Creek Lodge Newsletter, and follow us on Facebook!