If there's any issue with how to spend your time during an Asheville, NC getaway, it's based upon having too much to choose from. Despite being a relatively small mountain town, the area is home to a surprising treasure trove of activities and attractions. You'll never run out of fun things to do in Asheville!
Asheville is a vibrant cultural community nestled in North Carolina's Blue Ridge Mountains. The city is well known for its beautiful estates, museums and art centers, craft breweries, and numerous natural attractions. No matter whether you're more of a city mouse or country mouse, Asheville has something for you
This combination of art, culture, food, history, and nature makes Asheville one of the best vacation destinations out there. All you have to do is decide what things to see and do while you're in the area.
It is with that in mind that we've put together this short list of some of Asheville's most popular attractions.
Things To Do in Asheville
Biltmore Estate, Gardens, and Village
No list of things to do in Asheville is complete without mentioning the Biltmore. Between the stunningly beautiful historic estate, lush manicured gardens, and high-end shopping in Biltmore Village, a person could spend much of their vacation here. But really, you've only just begun to discover Asheville.
The Folk Art Center
Peruse galleries filled with exquisite locally made handiworks: quilts, pottery, apparel, jewelry, and more. Best of all, most of the items are for sale! The Folk Art Center's permanent collection contains the largest collection of Appalachian Craft in the world.
Asheville Breweries
There's a reason Asheville is aka Beer City USA. Asheville has more craft breweries per capita than any other city in America! No matter where you go in town, you're never too far from a brewery. From local favorites like Asheville Brewing Company, Green Man, and Wicked Weed, to big name transplants, like Sierra Nevada and New Belgium, Asheville is THE place for sampling excellent craft beer.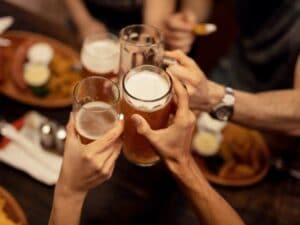 River Arts District
Asheville's River Arts District, near the French Broad River, is home to hundreds of artist's galleries and studios. Glassblowers, sculptors, painters, chair caners, whittlers, weavers, and more. Visit during the second Saturday of each month for demonstrations, workshops, wine tastings, live music, and more.
Asheville Pinball Museum
Whether you stop by to marvel at the vintage games or just want to have some fun, the Asheville Pinball Museum will not disappoint. Play more than 75 classic, working pinball machines and arcade games as much as you want for just the price of admission.
Local Nature & Scenery

Blue Ridge Parkway
Blue Ridge Parkway is one of the most scenic drives in the country. This majestic 469 mile stretch of road travels from Shenandoah National Park in Virginia to the Great Smoky Mountains in North Carolina. Of course, we think some of the best views are found right here in Asheville. In fact, Bent Creek Lodge is located off Blue Ridge Parkway mile post 393.
North Carolina Arboretum
The North Carolina Arboretum is a 434-acre public garden containing a wide array of botanically-diverse plants. The Arboretum is also home to a variety of hiking and biking trails, rotating art and science exhibits, a bistro, gift shop, and more. Better yet, it's just a half-mile from Bent Creek Lodge!
Pisgah National Forest
Pisgah National Forest offers more than 500,000 acres of hardwood forest, whitewater rivers, waterfalls, unique geological landmarks, and hundreds of miles of trails. Guided nature hikes, fishing, biking, rock climbing, and more. Get out and soak up some of that great, natural, North Carolina beauty!
Western North Carolina Nature Center
If you like animals, you'll love the Western North Carolina Nature Center. The 42-acre facility is home to over 60 native species, including river otters, turtles, fox, bobcats, black bears, white-tailed deer, red wolves, and more.
And That's Not All
We've barely scratched the surface of all there is to see and do in Asheville, NC. There simply isn't enough room to list it all. Even if there was, reading about Asheville isn't anywhere near as fun of being here. So go ahead, plan your Asheville getaway at Bent Creek Lodge today!