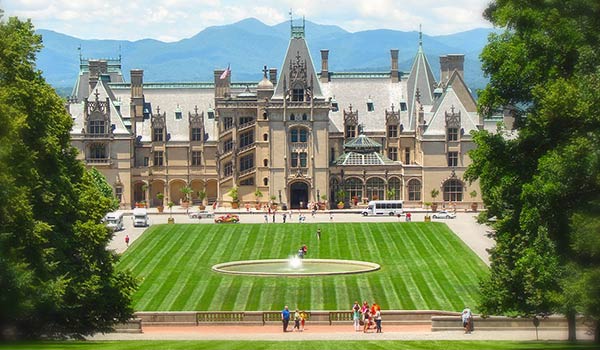 Visit America's largest home, the Biltmore Estate, in Asheville, NC. The Biltmore is open and looks forward to being part of your getaway to the Blue Ridge Mountains.

History of The Biltmore Estate:
Before it became a National Historic Landmark and one of North Carolina's most popular destinations, it was simply "home" to the Vanderbilt family.
After visiting Asheville in 1888, George W. Vanderbilt began purchasing more than 120,000 acres to fulfill his vision. Designed by renowned architect, Richard Morris Hunt, the 250-room French Renaissance chateau is a marvel of America's Gilded Age. After 6 years of construction, George Vanderbilt officially opened the Biltmore Estate, known as the Biltmore House, to family and friends on Christmas Eve in 1895.
There are a total of 35 bedrooms, 43 bathrooms, and 65 fireplaces in the home, along with a full-sized swimming pool and bowling alley in the basement. The rooms are decorated with the Vanderbilt family's original collection of antique furnishings, fine art, and centuries-old Flemish tapestries. It's truly a site to behold.
Photo Credit: Biltmore Estate Photo by 24dupontchevy via Creative Commons Attribution-Share Alike 4.0 International license.
A Virtual Visit:
While you make your plans to see the estate in person, enjoy this virtual visit.
Your Visit to the Biltmore Estate:
Today, the descendants of George Vanderbilt's continue his mission to preserve this national treasure. The Estate is open and ready to be part of your adventure to Asheville, NC and the Blue Ridge Mountains. Visit the Biltmore Gardens Railway, wander through historic gardens, along winding trails, and the spacious rooms of the Biltmore Estate – you can even enjoy complimentary wine tastings! For a full detailed list of offerings visit their activities page.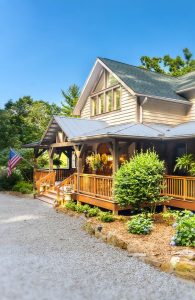 Biltmore Estate
1 Lodge Street
Asheville, NC 28803
phone: 1-800-411-3812
website & hours: biltmore.com
Where to Stay:
Bent Creek Lodge is located 15 minutes from the estate, right off the Blue Ridge Parkway, just 3 minutes from the North Carolina Arboretum. Visit BentCreekNC.com and begin planning your getaway to Asheville today