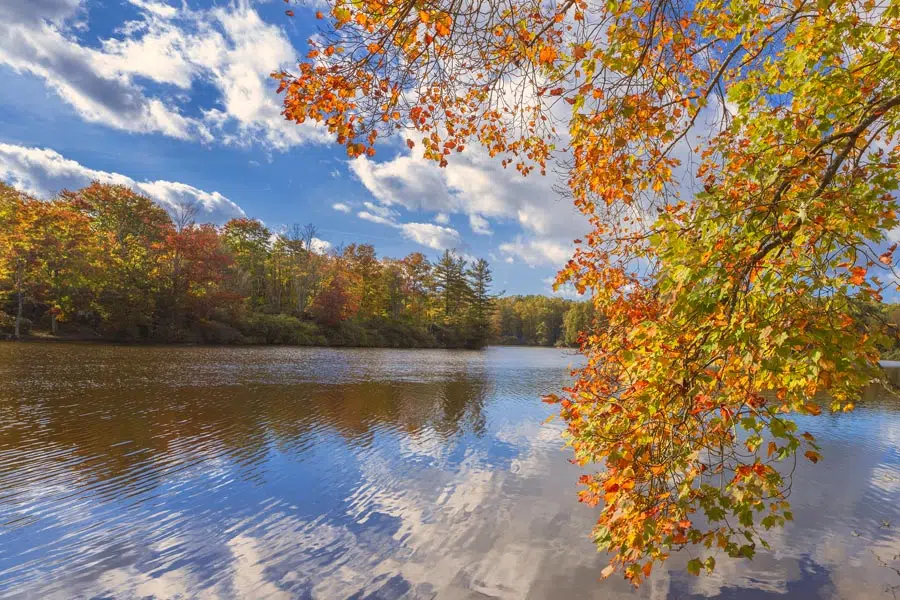 It's been a fantastic summer here in the Blue Ridge Mountains and, as always, it went so fast that we're a little sad to see it go. It's also hard not to be excited about autumn's upcoming, always stunning, color show, however! Fall in Asheville is an especially amazing time and something everyone who loves fall colors should experience.
Western North Carolina has one of the longest and most diverse fall color seasons in the world, making Asheville one of the nation's most popular fall destinations. There are a variety of factors that make Asheville's fall so unique. Our fall color show typically kicks off around the end of September in the area's higher elevations. The colors slowly spread down from the mountains to the valleys as the days pass, a process that can last up to six weeks!
This extended autumn change gives you even more time than usual to come and take it all in. Unlike many other areas, we have no one day or week that qualifies as a peak. Instead, eager leaf-peepers will find that our varying elevations and tree species provide vibrant views throughout the season.
Asheville Fall Foliage Drives and Hikes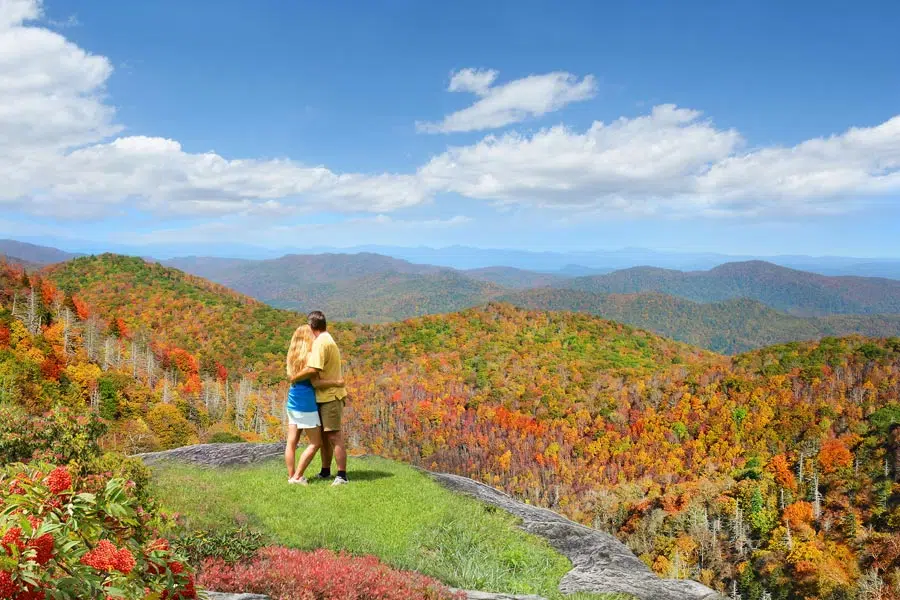 One of the best ways to get out and see Asheville's fabulous autumn colors is on a fall foliage drive.
Those visiting in early fall drive will enjoy taking the Blue Ridge Parkway north to Grandfather Mountain, the perfect place for a hike, picnic, and gorgeous fall colors. The route passes by a variety of potential attractions, too. Craggy Gardens, Linville Falls, and Linn Cove Viaduct.
Pisgah National Forest, home of lofty Mount Pisgah is another popular autumn destination. It's located south of Asheville on the Blue Ridge Parkway and is another great place to enjoy a fall color hike or picnic.
Mid-October is typically when we see the brightest and most astonishing array of seasonal hues. By this time, the color change has reached the lowlands and the color is everywhere you look, no matter your elevation. This is a fantastic time to take a drive on the lovely, winding roads of US 19, between Maggie Valley and Cherokee, NC.
Trees in the lower elevations around Asheville usually won't see their peak fall color until late October or even early November, if you can believe it. Late season fall foliage hotspots include Chimney Rock Park, the North Carolina Arboretum, and the Vance Birthplace in Weaverville, NC.
Asheville Autumn Activities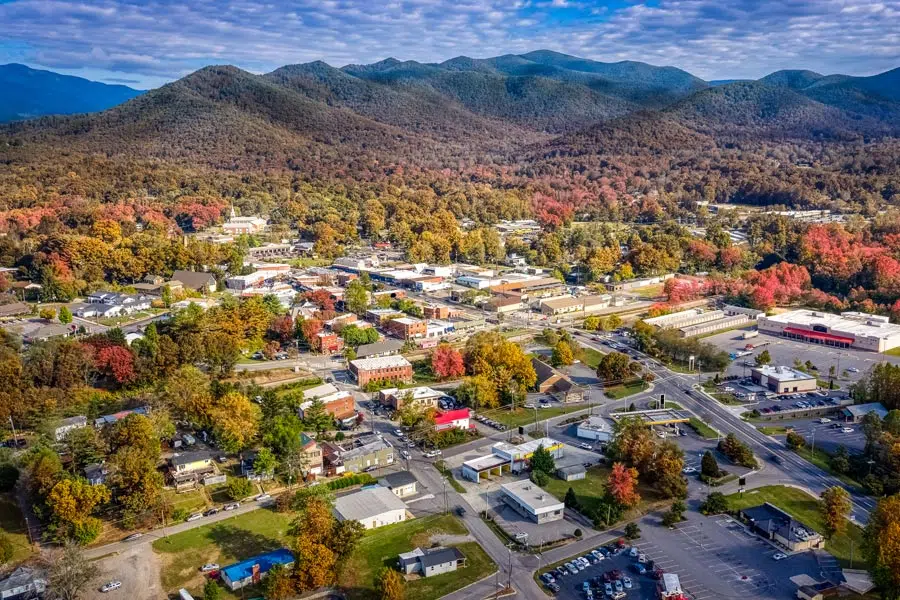 Fall is one of the best times for a sight-seeing drive but there's more to an Asheville fall than that! This is also harvest and festival time, with lots of seasonal attractions and events to experience.
There are farmers markets, fall concerts and festivals, and more. How about a visit to one of the many area orchards where you can pick your own fruit and enjoy fresh, hot apple cider. Wonderful!
In fact, if there's any downside to the season at all, it's that Asheville can get a little crowded. This is especially true of mid-October. Luckily, our extended fall season provides quite a bit of flexibility. We recommend avoiding some of the crowds by visiting in late September, early November, or by straying from the traditional weekend with a Sunday, Thursday, or even taking a weekday getaway.
Whatever your choice, whenever you can come, Bent Creek Lodge is here for you with lodging and lots of fantastic fall destination ideas for you. Book your stay now, while there are still some rooms left!