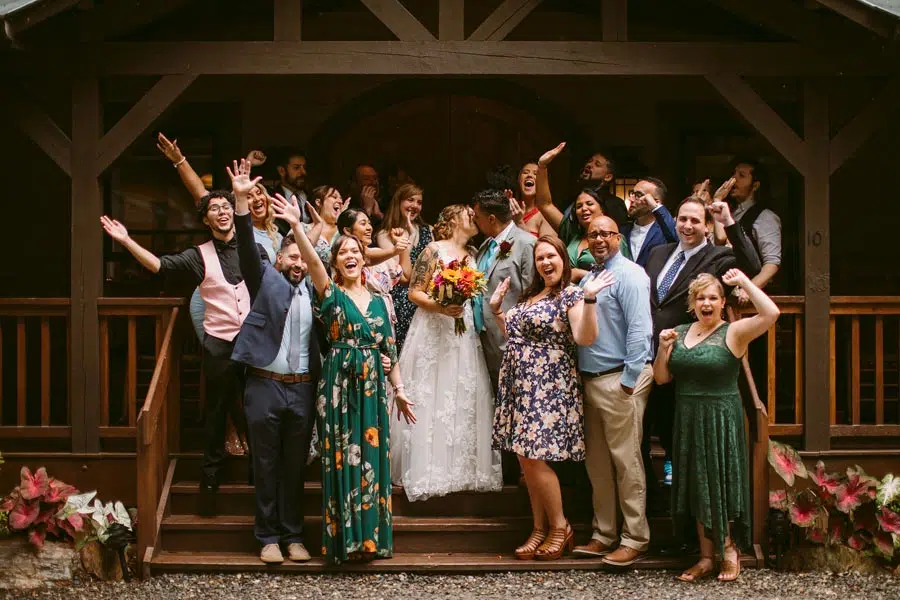 We've hosted many memorable Asheville weddings and elopements over the years but we couldn't help but share this image and review from a recent weekend wedding. Liz's description of her experience at Bent Creek Lodge not only makes us blush with pride but also describes our Private Wedding at the Lodge package quite nicely:
"We got married at Bent Creek Lodge on 8/6/22 and rented out the whole lodge and the Luhn house for ourselves and our guests for the weekend. It was extra special that we were able to get married here, because we actually stayed here the weekend we got engaged as well! It meant so much that we were able to return and share the experience with our loved ones.
I am not exaggerating when I say that it was one of the most magical weekends of our lives, and it would not have been possible without Randy, Linda, and the rest of the amazing Bent Creek Lodge crew! The all-inclusive wedding package made it so insanely easy for us to have a top-tier wedding with minimal fuss and headaches on our part.
We had our venue, lodging for all of our guests, officiant, catering, cake, beer and wine, and flowers all in a one-stop shop which made everything so much easier. The only things we chose to coordinate with outside vendors was the photography, DJ, and hair and makeup.
Randy and his crew handled everything else, and they did an excellent job on all of it. All of the food was incredible, and they went above and beyond to accommodate our guests with special dietary needs. The flowers and cake were beautiful, and Randy did a wonderful job officiating our ceremony.
Just about every single guest came up to us at least once during the weekend to gush about what an amazing time they were having, and several approached us afterwards to tell us it was one of the best weddings they had ever been to. The entire crew really went above and beyond to make us feel welcome and like family.
Bent Creek Lodge will always have an extra special place in our hearts, and we couldn't be more grateful."
Liz W – 9/14/2022
Asheville Weddings & Elopements at Bent Creek Lodge
Asheville, NC and the romantic Blue Ridge Mountains have long been a top wedding destination and couples have been exchanging vows and celebrating anniversaries at Bent Creek Lodge for over 20 years.
Our secluded setting, nestled in a forested triangle between the Blue Ridge Parkway and the French Broad River, is perfect for any dream elopement or micro-wedding.
Bent Creek Lodge feels like a remote mountain hideaway with hiking trails right outside your room – yet all the delights of downtown Asheville are only 10 miles away.