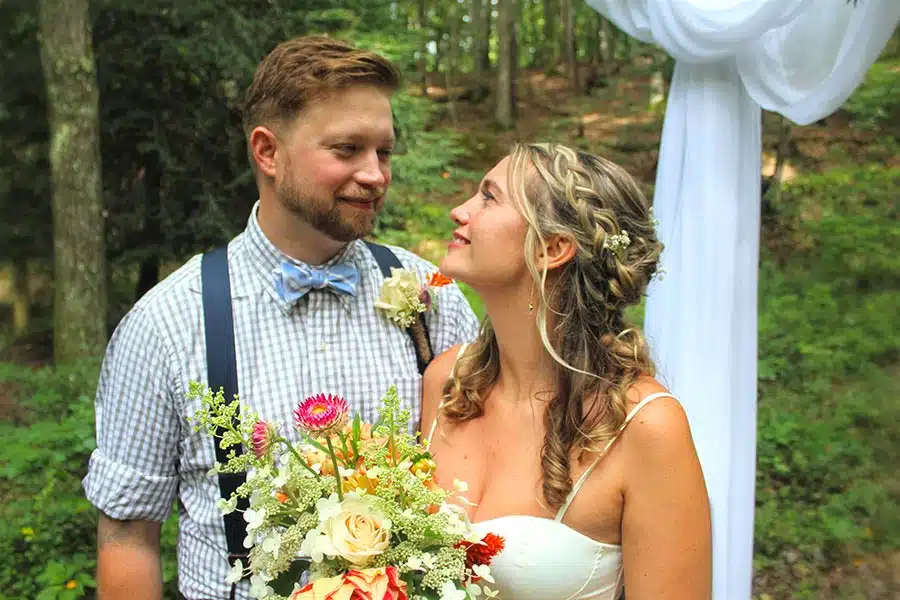 Looking for that picture perfect, small wedding destination in the Blue Ridge Mountains? Look no further! Bent Creek Lodge has been providing idyllic and intimate Asheville elopements and micro weddings for over 20 years!
Asheville has long been one of the country's top wedding destinations – and who's surprised? The Blue Ridge Mountains of North Carolina are endlessly beautiful and romantic, just like your love for each other. What better location to exchange your vows?
Our Asheville bed and breakfast, Bent Creek Lodge, is the perfect wedding location. We're nestled in the woods on a secluded lot, less than a mile from the Blue Ridge Parkway, yet downtown Asheville is only 8 miles away. Further, our extensively landscaped grounds, complete with gardens and trails, make a stunning backdrop for your ceremony.
Add in one of our four, all-inclusive wedding packages and you've the makings of a flawlessly romantic wedding ceremony.
Asheville Elopements and Micro Weddings
Now is an excellent time to plan your big day and Bent Creek Lodge is here to help. Our Asheville elopement and micro wedding packages start at $1,295, saving you 90% on the cost of a traditional ceremony and honeymoon. Our elopement and wedding packages are all inclusive, so you can relax and actually enjoy your wedding. Let us handle all the details, big and small, so you two can concentrate on your guests and each other.
Choose from our Simple "I Do" Elopement, our "Love for Two" Elopement, an Elopement "With Friends", or a Private Wedding at the Lodge. Each of our packages include 2 nights lodging, a wedding coordinator, ceremony, flowers, photography, cake, and a champagne toast. After that, each package offers its own special extras. 1 hour on-site photography, keepsake wine flutes, music, champagne for guests, pre-wedding dinner, and more.
Look over the options to see which best suits your idea of the perfect wedding or elopement. Then all that's left is letting us know so that we can help you to create a wonderful and romantic wedding day you will look back on forever.
Contact us for additional information, to request a preview visit, or to reserve your date. Call 828-654-9040 or email us at info@bentcreeknc.com.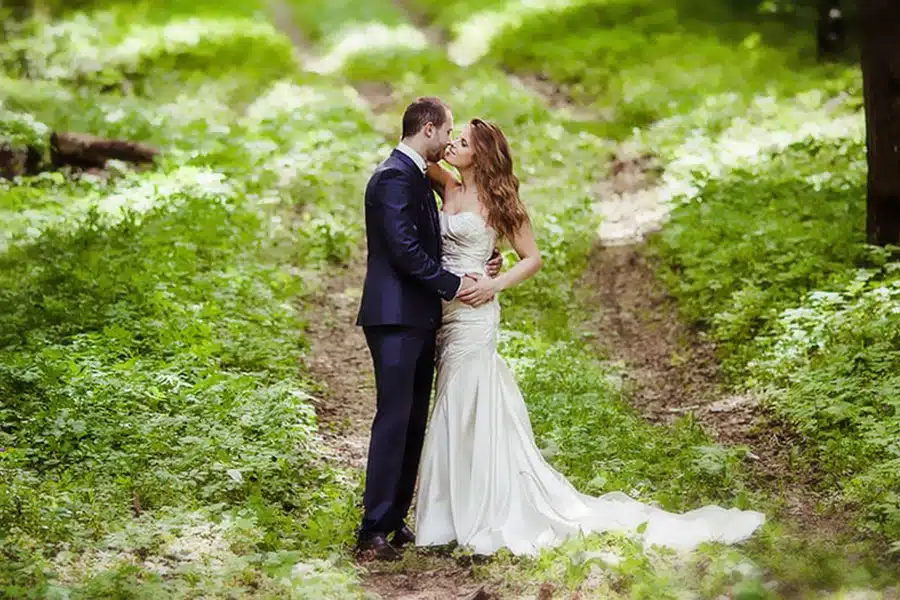 Bent Creek Lodge Elopement and Wedding Reviews
There's nothing more gratifying than helping a couple start their life together. Below are the kind words of just a few of the most recent couples to tie the knot at our Asheville bed and breakfast.
"Our daughter and son-in-law had an "Elopement with Friends" at Bent Creek in September 2023. It was lovely and so well done. Randy was a wonderful officiant, the staff was attentive and caring, and the setting was beautiful. Bent Creek made all of the details of both our event and the happy couple's stay lovely, memorable, and stress-free. So very grateful!!" – M Shaw
"I wish you could give 10 stars because Bent Creek Lodge deserves more than 5 !! We had my daughters wedding today on Nov 14 2022 and we could have asked for or had anything done differently. The staff is excellent from beginning to end. The rooms are beautiful including the Luhn house !! And Randy ? He is wonderful and willing to do everything to make sure everyone is happy. A truly beautiful, must see and stay !!!!" – Diane Clay
"My family and I were there this past week for my wedding, and we absolutely loved it. Randy and his staff were all wonderful. From the check-in to check-out, they were always available and answered any questions we had. Our wedding at the lodge was great and seamless. The pictures do not do this place justice, you must see it in person. We can't wait to go back and enjoy another relaxing vacation there. I now see why they have received so many 5 star reviews." – V M
"We recently got married at this beautiful and amazing wedding venue. The staff went above and beyond to make this a very special occasion for us. The owner, Randy, was professional and cordial. He made our stay comfortable and tended to our needs like family. We had a magical and perfect wedding. Thank you! You are all awesome!!" – Brenda Zinn
Plan your Asheville elopement or micro wedding today at Bent Creek Lodge!