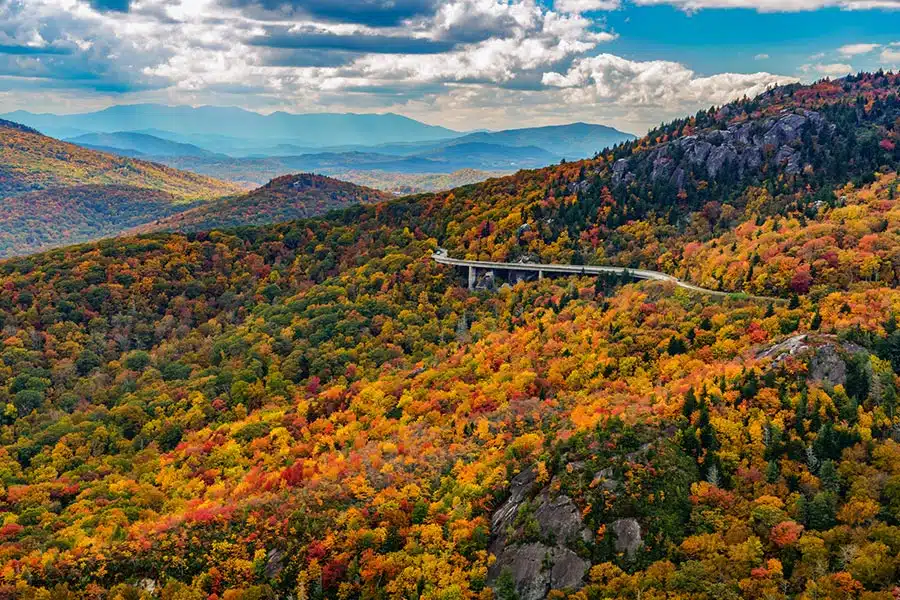 Summer may be winding down but that's no reason to stop making travel plans. Not with the Asheville fall foliage show next on the bill! The Blue Ridge Mountains of North Carolina are home to one of the longest and most colorful fall seasons in the country and Asheville has front row seats!
There's never a bad time to visit Asheville but autumn may be one of the best. Temperatures and crowds are milder, there are plenty of fun events to attend, and the always stunning vistas get even more gorgeous.
Best of all, the length of Western North Carolina's fall color season means your chance to come revel in all the natural beauty isn't restricted to a short peak season. In fact, the full color of the season can last as long as five or six weeks – the longest in the world! The leaves begin to turn at the higher elevations around the end of September, then slowly spread downwards in a process that can take up to five or six weeks.
The extended length of our autumn color show makes it easier to plan your getaway but that doesn't mean you should snooze on the planning. While we see lesser crowds post summer, the Asheville fall foliage season is still very popular. If you're planning to come, now is the time to book your stay!
Asheville Fall Foliage Views
Bent Creek Lodge is nestled in a quiet, forested triangle just south of downtown Asheville. Our peaceful location, while still conveniently close to all the fun and excitement in town, surrounds you with nature, which means gorgeous color, come autumn. Further, with the entrance to the Blue Ridge Parkway less than a mile away, getting out to see some of the area's best fall foliage is a snap.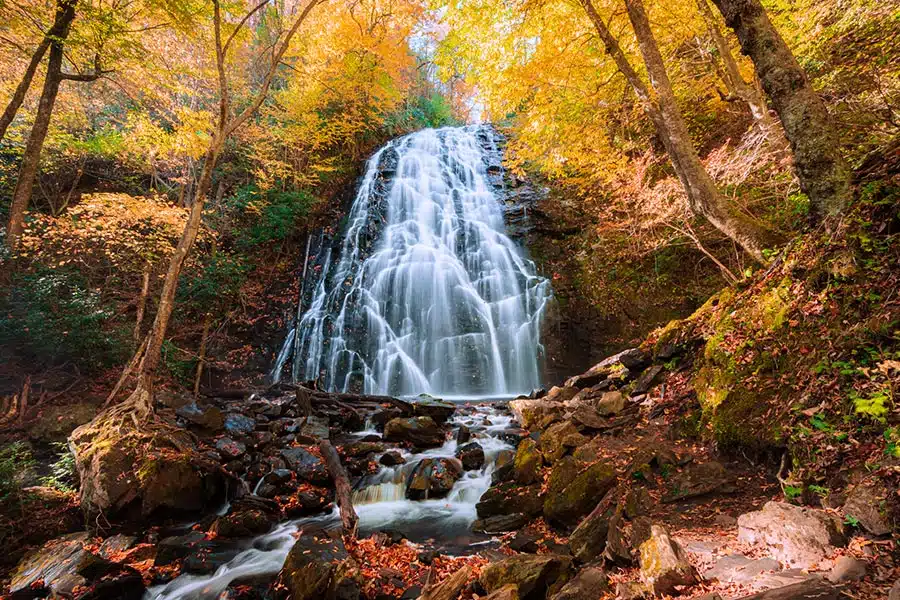 Fall foliage fans visiting in the early part of the season should take the Blue Ridge Parkway north to Grandfather Mountain. This is the perfect place to take in those gorgeous fall colors with a drive, hike, or a picnic. This route also takes you past a number of other, local autumn color destinations. Stand-out attractions like Craggy Gardens, Linville Falls, and the Linn Cove Viaduct.
Pisgah National Forest, located south of Asheville on the Blue Ridge Parkway, is another early-season leaf-peeper's paradise. The home of Mount Pisgah, Looking Glass Rock, picturesque waterfalls, and many other natural attractions is great place to take in those fall colors.
Come mid-October, when the season's hues are typically at their brightest, we suggest exploring US 19, between Maggie Valley and Cherokee, NC. This lovely stretch of winding roads offers a very pretty drive and a cornucopia roadside Americana. Souvenir shops, bbq shacks, miniature golf, lookout towers, and of course, plenty of gorgeous fall foliage.
Late season fall foliage typically appears in the lower elevations around Asheville in late October or even early November. Chimney Rock Park, the North Carolina Arboretum, and the Vance Birthplace in Weaverville, NC are a few of the popular leaf-peeping destinations for this time of the season.
Asheville Fall Festivals & Events
Looking for a little local flavor and fun? Fall is festival time, offering a variety of entertaining events to attend.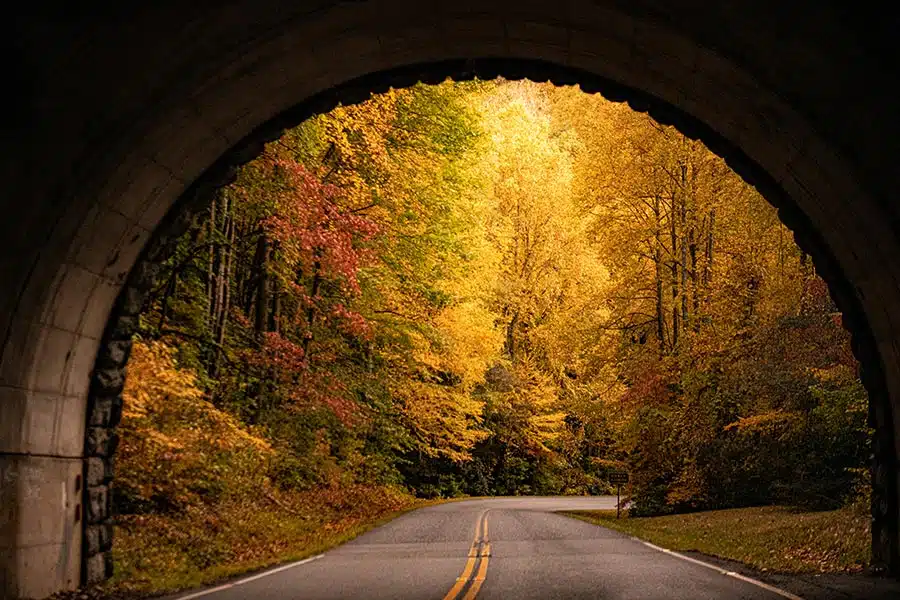 NC Mountain State Fair – September 8-17
Asheville Greek Festival – September 22-23
Asheville Quilt Show – September 28-30
Blue Ride Pride Festival – September 30
Asheville Art in the Park – October 7, 14, & 21
Craft Fair of the Southern Highlands – October 19-22
Fall LEAF Festival – October 19-22
North Carolina Ceramic Arts Festival – October 28
It's also a great time to visit area orchards to pick fresh fruit and sip hot cider – yum! And have you ever seen Biltmore in autumn? Stunning.
Whatever your fancy, Bent Creek Lodge is here for you. Let us help you make the most of your North Carolina adventures at our Asheville bed and breakfast!