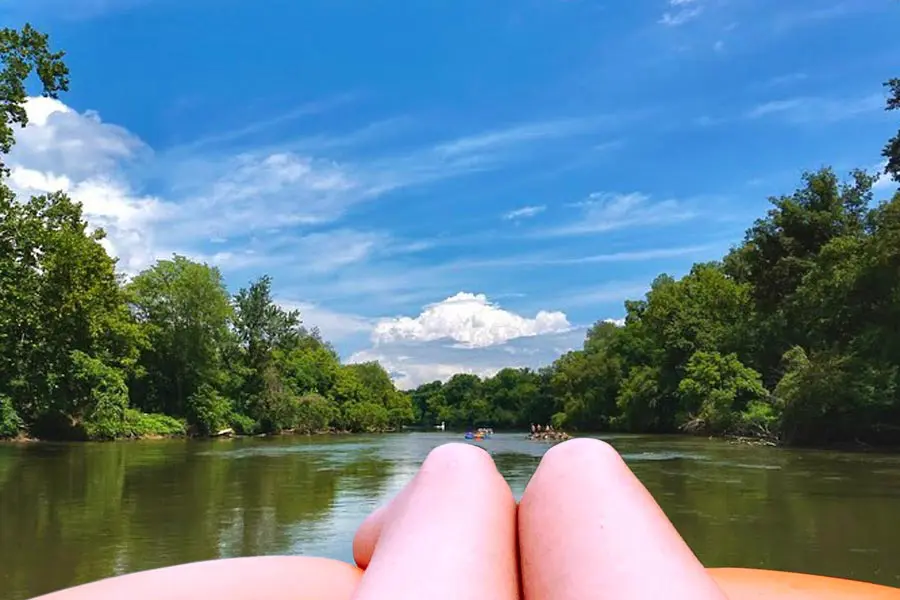 Looking for fun and relaxing things to do during your Asheville getaway this summer? One of the most popular options is floating down the French Broad River on an inner tube with Zen Tubing.
Summertime is a glorious time in Asheville, NC. The weather is fantastic, folks are in a great mood, and there's plenty to see and do. For those who enjoy getting out on the water, or just a lovely lazy time in the summer sun, there's nothing quite like tubing the French Broad River.
If you've never tubed before, you're in for quite a treat. Unlike white-water rafting, kayaking, or canoeing, river tubing is a calm, easy ride with little to no paddling necessary. Just let the current do all the work while you sit back and watch the world scroll by.
The French Broad River
The French Broad River is one of the oldest rivers in the world, at some 260 to 325 million years of age. This makes the river far older than the mountains it runs through!
The river starts out as a small stream in the mountains of North Carolina, then flows more than 200 miles to Knoxville, TN where it helps to form the Tennessee River. Along the way, it passes through the center of Asheville, an important asset in our mountain city's history.
The river meanders gently through town, south to north, with no heavy rapids or waterfalls. A number of parks line the river, providing access for fishing, bird watching, picnics, boating … and tubing!
Zen Tubing the French Broad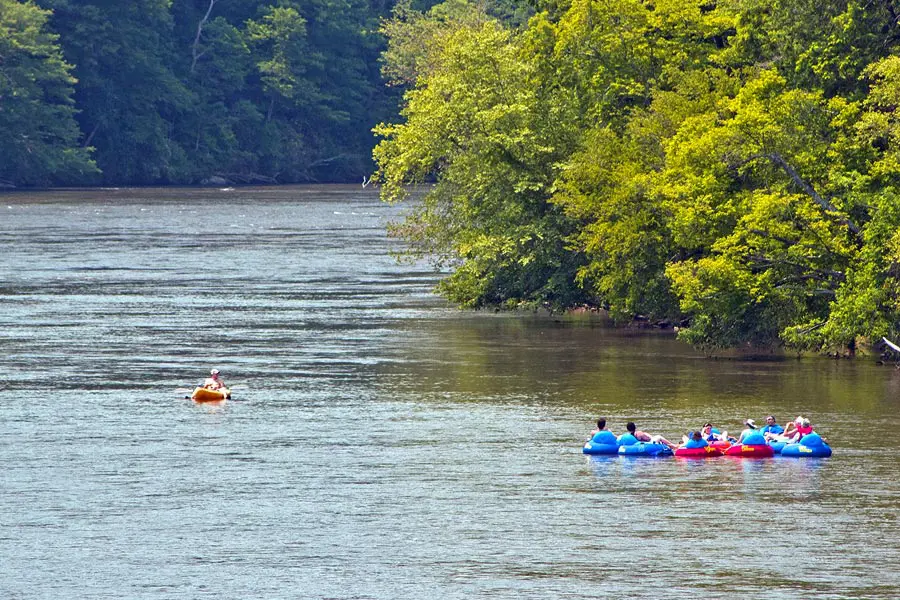 When it comes to tubing Asheville, Zen Tubing is the answer. The popular outfitter makes enjoying a float trip a snap, with all the perks and safety you could hope for.
Simply park, pay for your trip, sign the waiver, and hop in the shuttle. They'll run you up the river to their easy put-in spot and you're off, floating serenely down river to your parked car. The water is mostly quite shallow, allowing you to stand, should you need to get out of your tube.
These tubes are some of the cushiest around, too, with backrests, cup holders, and a variety of sizes to fit anyone. You can even rent a cooler tube to float along beside you with snacks, a picnic lunch, or even adult beverages, as long as they're in cans. Life jackets are provided but you will want sunscreen, hats, and sunglasses. Water shoes of some kind are required.
Zen Tubing float trips cover 4 river miles and take between two to four hours, depending on weather and water levels. You even have the option of staying on the river as long as you like. Just get back to the takeout point by 7pm. This gives you the freedom to wade or swim, have a picnic, stop at a brewery, or whatever you want. Fun!
Two Locations In Asheville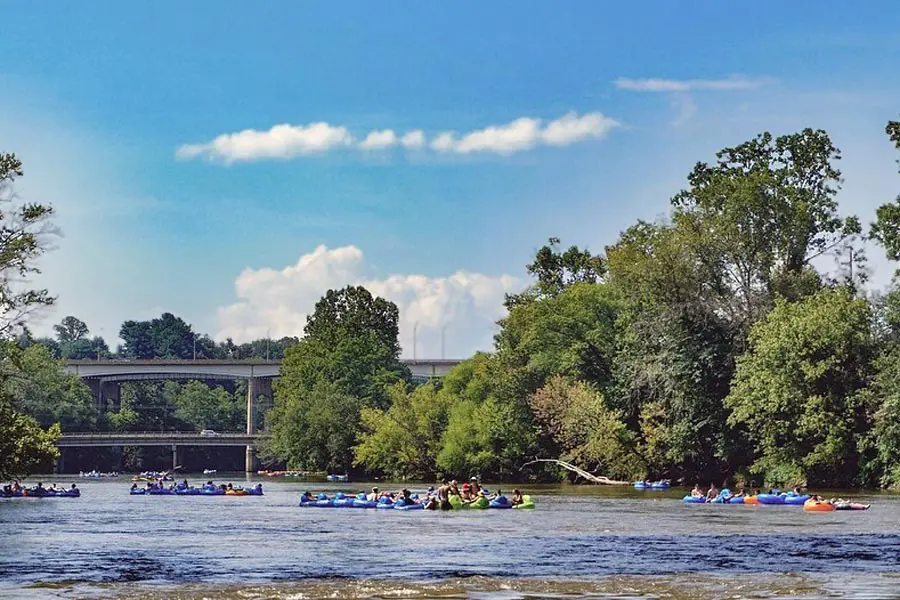 Zen Tubing has two different locations on the French Broad River in Asheville, NC.
The first is in Midtown Asheville at 608 Riverside Drive, about 15 minutes from our Asheville inn, Bent Creek Lodge. Setting off from this location takes you through the River Arts District, with its artist's studios, galleries, restaurants, and breweries.
It's a great trip for those who want to see the River Arts District from the water or plan to hop off for a drink or a meal.
The second location is in South Asheville at 1648 Brevard Road. This is only a two minute drive, just over half a mile away, from Bent Creek Lodge! How's that for convenience?
The South Asheville route takes you out of the city and into nature. There are many nice places to wade, swim, stop for a picnic, and just soak in that natural North Carolina beauty.
Learn more online at the Zen Tubing website. You can also find them on Facebook.