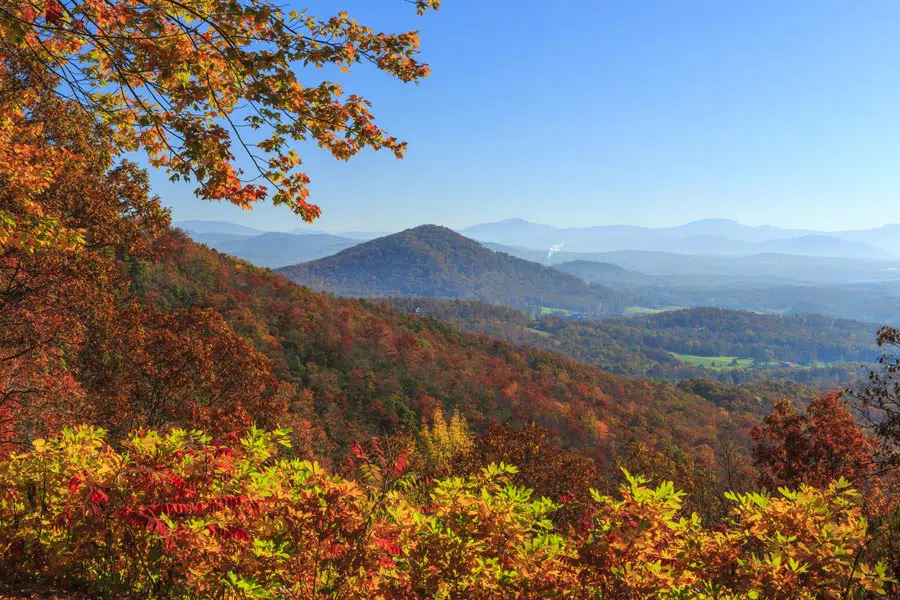 As summer 2021 comes to a close, our thoughts turn to the upcoming autumn spectacular that is the Asheville fall foliage show. We have front row seats for one of the longest leaf-peeping seasons in the country, with fall festivals, hikes, and fall foliage drives galore. Take your seat, the show is about to begin!
Summer is a wonderful season that we all hate to see pass as quickly as it always seems to do. Who can really be sad, though, with glorious, gorgeous autumn following so closely behind? This is especially true here in the Blue Ridge Mountains, where we're treated to one of the longest and most colorful, fall foliage displays in the country.
The reasons for our rich, extended fall leaf season are many. Our temperate climate plays an important role, as do our broad array of elevations and tree species. The color change begins at the higher elevations, typically around the end of September. It then slowly spreads to the lower elevations, a process that can take as long as five or six weeks.
This extended autumn spectacular means more opportunities for leaf-peeping, more fall festivals, and more fun. It doesn't mean you should hesitate, however! Asheville fall foliage season is quite popular. If you hope to come see the show, you should book your stay now.
Asheville Fall Foliage Drives and Hikes
As mentioned above, Asheville's autumn color change typically starts in late September and early October, beginning at the higher elevations.
Some of the better ways to view these early stages include driving the Blue Ridge Parkway north to Grandfather Mountain. This a wonderful place to hike, picnic, and take in the fall colors. You'll also find numerous worthy attractions along the way, such as Craggy Gardens (milepost 364), Linville Falls (milepost 316), and scenic Linn Cove Viaduct (milepost 304).
Pisgah National Forest, south of Asheville on the Blue Ridge Parkway, is another popular fall destination. Consider a stop at Mount Pisgah (milepost 408) to stretch your legs with a hike or enjoy a picnic.
Autumn's scintillating palette reaches the lowlands and its deepest brilliance around mid-October.
US 19, between Maggie Valley and Cherokee, NC presents some excellent leaf-viewing on lovely, winding roads. Head west from Asheville on US 19 to Cherokee, then return on US 276, which leads through Pisgah National Forest to the Blue Ridge Parkway.
Late October through early November sees fall colors reaching their peak brilliance in the lower elevations around the Asheville.
Some choice, late-season destinations include the North Carolina Arboretum, Chimney Rock Park, and the Vance Birthplace in Reems Creek Valley.
Asheville Fall Festivals
Fall is also festival time, here in Asheville, with a variety of fun, family-friendly events to attend:
NC Mountain State Fair – September 10-19
Asheville Art in the Park – October 2, 9 and 16
WNC Garlic Fest – October 9
Fall LEAF Festival – October 14-17
North Carolina Ceramic Arts Festival – October 23
Bent Creek Lodge is here for you no matter what time of year you visit. Our Asheville bed and breakfast is a remote mountain getaway, nestled among the trees yet only 10 miles from downtown Asheville and the Biltmore Estate and less than a mile from the Blue Ridge Parkway. Come, let us treat you like royalty during your Asheville adventures!