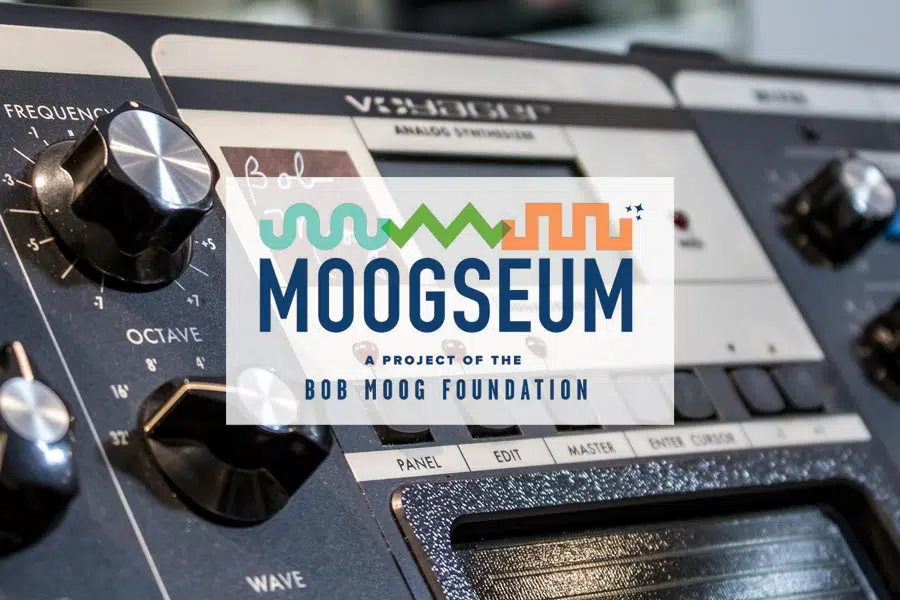 Asheville's unique Moogseum museum celebrates the life and career of American engineer Robert Arthur Moog and his groundbreaking Moog synthesizers.
You may not have heard of Bob Moog (rhymes with "vogue") but you've definitely heard his Moog synthesizer. The revolutionary instrument is used in hundreds of hit songs, commercials, movie soundtracks, and more since its introduction in the late 1960's.
Before Bob Moog, synthesizers were similar to early computers: huge, bulky, and ridiculously expensive. Moog wanted to change this and set to work on his Moog synthesizer in 1964. Once completed, his invention was smaller, more affordable, and importantly, playable via keyboard. Other Moog innovations were to follow. Now-fundamental synth concepts like the pitch wheel, modularity, voltage control, and envelope generation.
It wasn't long before the Moog began having a profound effect on music. It appeared on hit records by The Monkees, The Doors, The Rolling Stones, The Beatles, and others. The first Grammy for a Moog based record was awarded to Wendy Carlos in 1968 for her "Switched-On Bach," album.
Moog moved to North Carolina in 1978 and stayed here until his passing in 2005. He founded Big Briar electronic instrument company here (renamed Moog Music in 2002) and also served as a research professor of music at the University of North Carolina at Asheville. Consequently, Asheville is the perfect location for a Moog museum celebrating his life and inventions: the Moogseum!
The Moogseum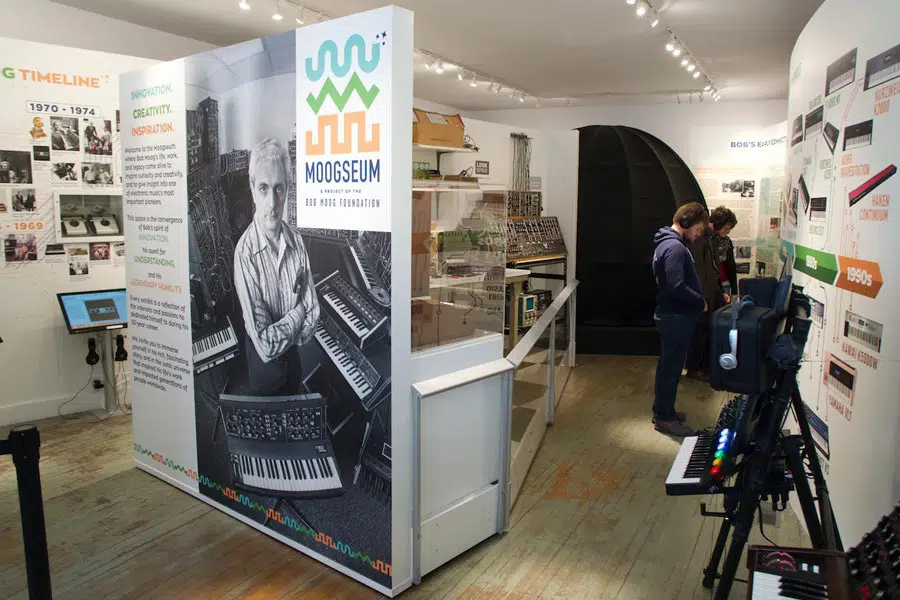 The 1,400-square-foot museum, which opened in 2019, illustrates Bob Moog's legacy through interactive exhibits and an immersive collection of archival items.
Visitors will enjoy the Hands-On Synthesis exhibit where you learn abut synthesis and how to sculpt sound. You can also step inside a circuit board to see How Electricity Becomes Sound.
The Moogseum also presents an exhibit on Leon Theremin and his unique "theremin" instrument, who inspired Bob Moog's own inventions. Play the theremin, learn about waveforms, and see some of the theremins Bob built over the years.
Two timelines immerse viewers in the History of Synthesis (1896 to 1995), and the Bob Moog Timeline. These include over 700 archival items, rare photographs, and interactive displays that pull you into each story.
You'll also be able to explore a Recreation of Bob's Workbench. Here you'll learn about modular synthesis and view a legendary modular that includes prototype modules from the late 1960's.
Be sure to stop by the Moogseum Store before you go for Moog-related items and a variety of fun collectibles.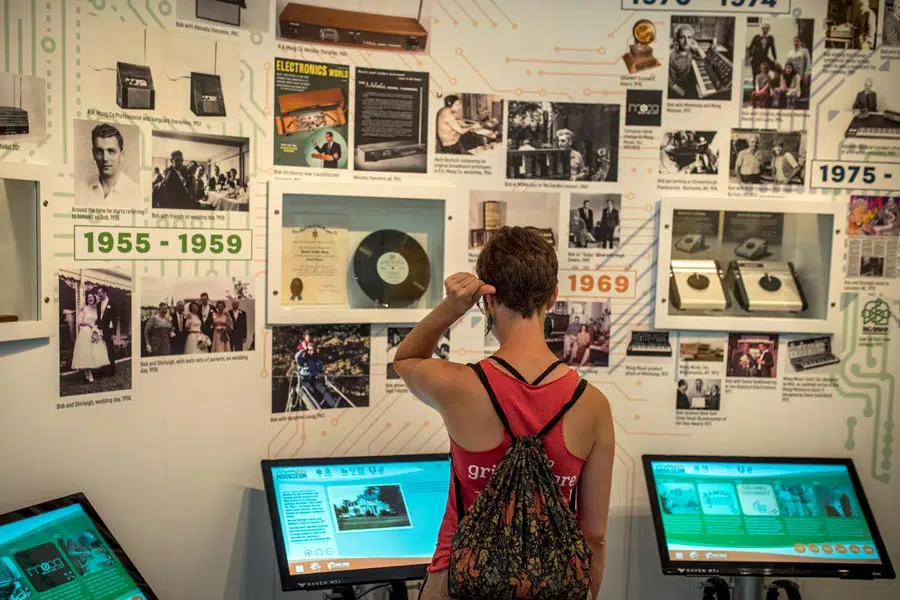 The Moogseum is located at 56 Broadway Street in downtown Asheville, NC, and open daily, 11am to 5pm. Visit the museum website to learn more. You can also visit the museum on Facebook.
The Moogseum is just 15 minutes from our Asheville bed and breakfast, Bent Creek Lodge. In fact, the convenient location of our remote mountain getaway puts downtown Asheville, the Biltmore Estate, Blue Ridge Parkway, and more within easy reach. Let us provide you with the perfect, comfy, and quiet locale for all your Asheville adventures! Book your stay at Bent Creek Lodge today!