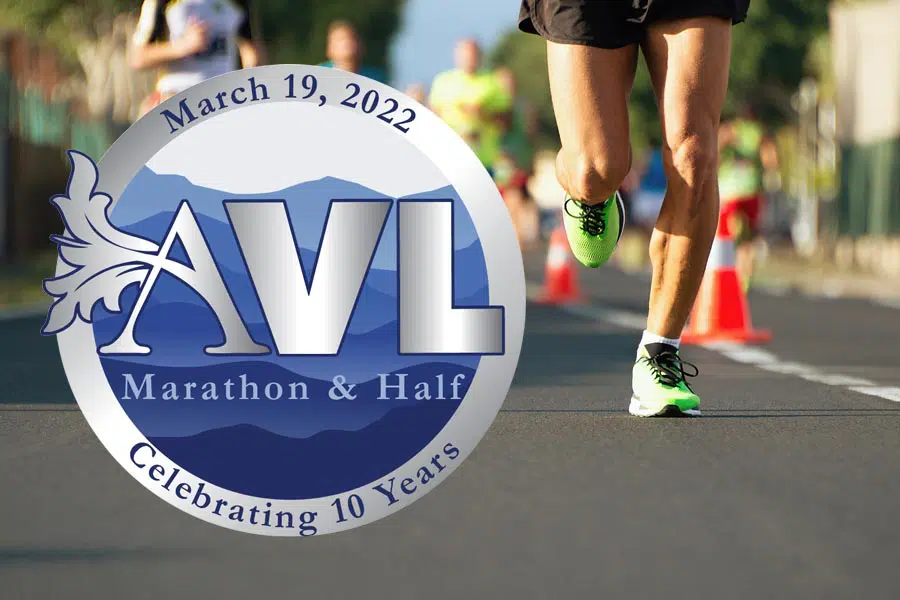 Asheville Marathon and Half 2022 is just weeks away, scheduled for Saturday, March 19th. This popular, spectator friendly event includes live music and an after party, and will be held in Downtown Asheville, NC.
Asheville's annual marathon and a half is a always a good time. The race is a certified Boston Qualifier and has been regularly recognized as a stand-out event by numerous organizations and publications. 2022 celebrates the marathon's tenth anniversary and promises to be bigger than ever.
This year's city-style, point-to-point race is downtown, taking runners through some of the best parts of Asheville. The course starts in Pack Square on Spruce Street, runs through downtown to the River Arts District, along the French Broad River, and then through the park. Water stations along the way will offer water, gels, bars, and electrolyte drinks.
The courses are fast, mostly paved, and either level or downhill. In fact, it's the flattest marathon in Western North Carolina, with an elevation gain of 374 feet, and a loss of 584 feet. The half marathon sees a 206 feet gain and a 415 foot loss. A great opportunity for runners to get a personal best!
Registered participants enjoy a host of perks. These include a dri-fit running shirt, commemorative buff, goody bag, free shuttle, and a 10th Anniversary Finisher Medal. After the race, attend the Wedge at the Foundation finish party and receive a free beer!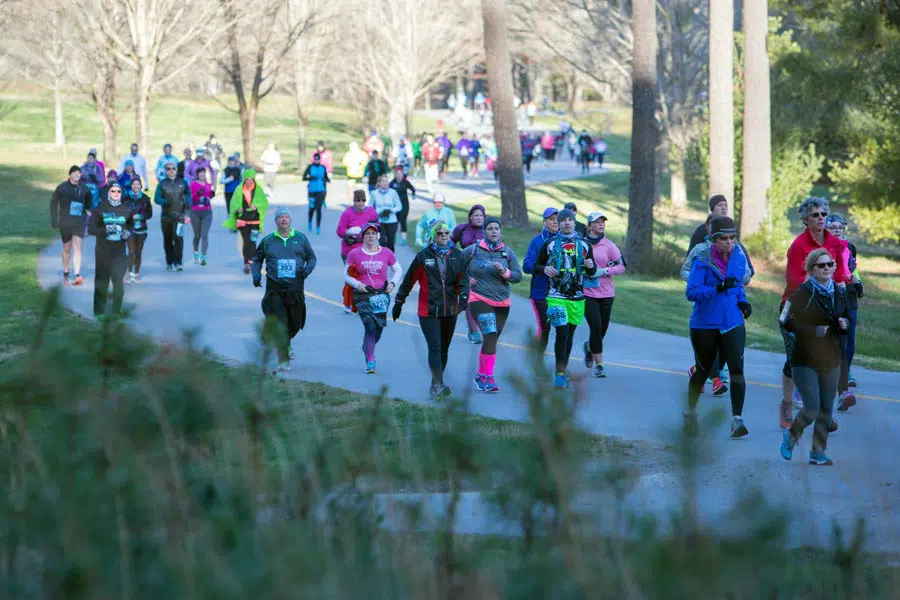 Past marathons were traditionally run on Biltmore Estate. Due to the covid pandemic, the past two years have seen a venue switch to downtown Asheville.
2022 Race Expo
The marathon is accompanied by a popular Race Expo, scheduled for Friday, March 18th, 11am to 7pm at the Biltmore Village DoubleTree.
Vendors at the Race Expo offer a variety of running and fitness related products, apparel, services, and marathon memorabilia. The Expo also sees a variety of special presentations and seminars. There are also raffles, with proceeds going to local charities.
Runners will need to visit the Race Expo at least once to pick up their race packet, bib, and goody bag. The Expo is also free and open to the public.
2022 Asheville Marathon and Half Schedule
March 18 ~
Race Expo/Bib Pickup (at 115 Hendersonville Road) – 11am to 7pm
March 19 ~
Marathon – 7:30am
Half Marathon – 8am
Post Race Party/Awards (at Wedge at Foundation) – 9am to 2:30pm
Half Marathon Awards Ceremony – 10:30am (approx)
Marathon Awards Ceremony – 11:30am (approx)
Visit the race website for updates and more details. You can also find the marathon on Facebook.
The annual Asheville Marathon is very spectator friendly. Whether you attend to run or just to watch, Bent Creek Lodge is here for you. Our Asheville bed and breakfast, is just minutes from downtown and attractions like Biltmore Estate, the Blue Ridge Parkway, and the North Carolina Arboretum.
We love sharing Asheville with our guests!