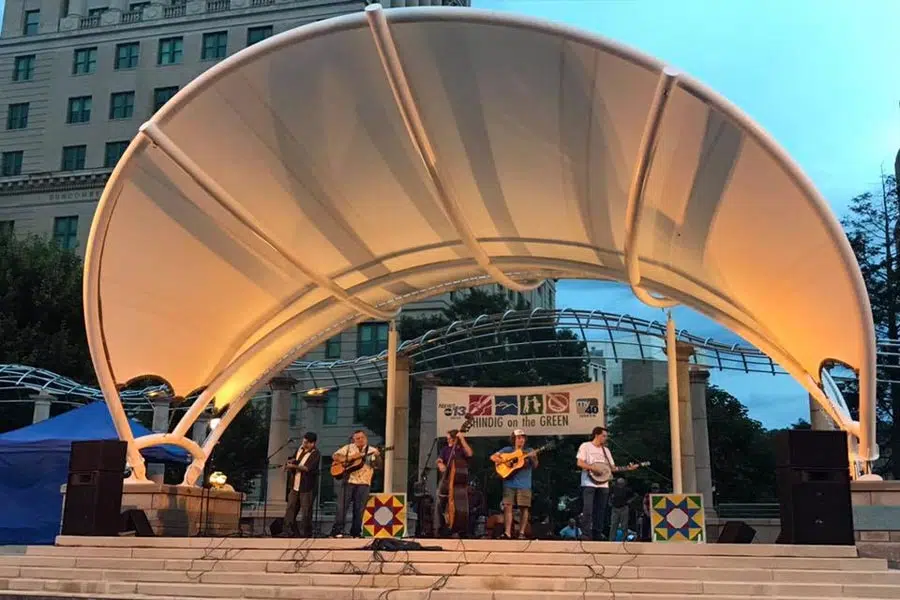 Shindig On the Green 2022 is right around the corner with 7 days of Southern Appalachia mountain music and dance. Saturday evenings between June 25th and August 13th, 2022 in downtown Asheville, NC.
Mountain music fans and those after a truly unique, Asheville experience need look no further than the 56th annual Shindig On the Green. This popular, summertime series of free concerts has been a beloved tradition since 1967. The event draws a host of musicians and thousands of eager fans to Asheville every year.
You'll hear bluegrass and old-time string bands, ballad singers and storytellers. Stoney Creek Boys, the Shindig's long-standing house band, will definitely be in attendance. You'll also see clog dancing and smooth dancing by groups like the Big Circle Mountain Dancers.
The event takes place 7 summer Saturday evenings on the Roger McGuire Green in downtown Asheville's Pack Square Park. Performances begin at about 7pm, "along about sundown," and continue to around 10pm "or thereabouts."
Most folks bring lawn chairs or blankets for the shows. Informal jam sessions break out all over the park after the show. Have an instrument? Bring it along and join in! Shindigs offer a great opportunity to meet and mingle with musicians and like-minded music lovers.
You won't go hungry or thirsty at the Shindig, either. The Hop Ice Cream Cafe will be on hand with tasty treats and the park is surrounded by a variety of good food and drink offerings.
Shindig On the Green 2022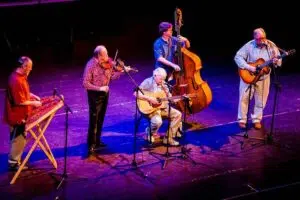 This year's event dates dates are June 25th, July 2nd, 9th, 16th, 23rd, 30th, and August 13th. As mentioned above, performances are loosely scheduled from 7pm to 10pm.
Why no performances on August 6th, you ask? All the musicians and dancers will be at Shindig's sister event, the 95th annual Mountain Dance and Folk Festival. August 4th through the 6th, 2022 at UNC Asheville's Lipinsky Hall.
The Roger McGuire Green in Pack Square Park is just 20 minutes from the door of Bent Creek Lodge, our Asheville bed and breakfast. Spend the evening soaking up some foot-stomping, hand-capping mountain music, then head back to the quiet comforts of your room at Bent Creek Lodge. Perfect!
Visit www.folkheritage.org for more information. You can also find the event on Facebook.