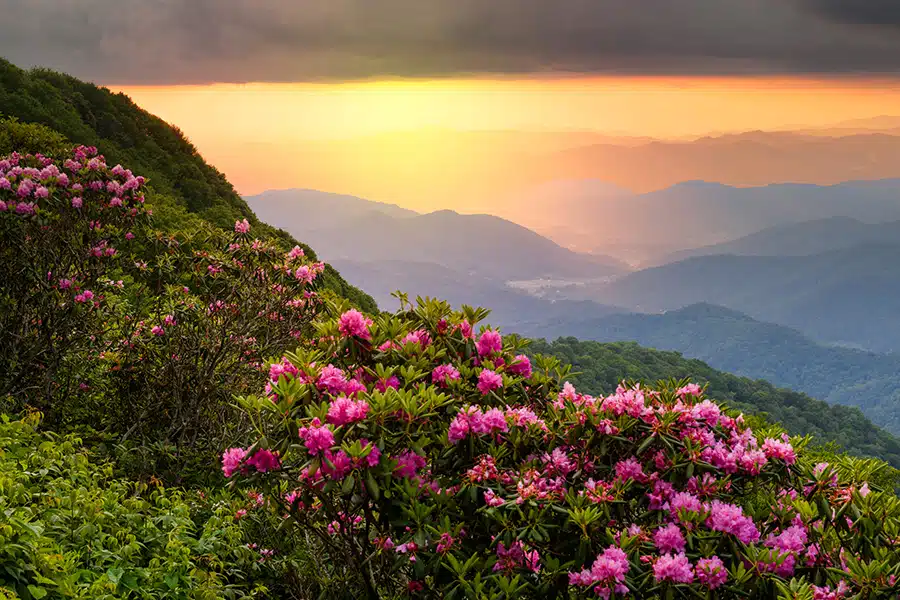 Hikers and outdoor enthusiasts alike will enjoy visiting the uniquely beautiful hiking trails and picnic areas of Craggy Gardens. This popular outdoor recreation area is located just off of the Blue Ridge Parkway; a scenic, 40 minute drive from Bent Creek Lodge.
The Blue Ridge Parkway is nationally known for its incredibly scenic vistas, rugged mountains, and pastoral landscapes. The 469 mile long Parkway runs from Virginia's Shenandoah National Park, through North Carolina, almost to Tennessee. Best of all, you can access the Parkway less than half a mile from our Asheville inn!
Stunning natural vistas and beautiful hikes can be found all along the Blue Ridge Parkway. Call us biased but we think the best areas along the Parkway are found in North Carolina. Of these, none may be more popular than Craggy Gardens.
Craggy Gardens get their fantastically appropriate name from The Great Craggy Mountain range. The Great Craggy Mountains are a 194 mile-long section of the Blue Ridge Mountains and home to Craggy Gardens.
Hiking, Picnicking, and Gorgeous Vistas
Craggy Mountain is home to five different hiking trails: Craggy Gardens Trail, Douglas Falls Trails, Craggy Pinnacle Trail, The Mountains-to-Sea Trail (MST), and Snowball Mountain Trail. Of these, the 1.9 mile Craggy Gardens Trail and 1.2 mile Craggy Pinnacle Trail may be the most popular.
The formal picnic area is located just a short walk from the parking lot. It includes well spaced concrete tables, on the slope of a hill, facing an utterly magnificent view. Hikers can also enjoy an impromptu picnic along the trails but this is a fragile habitat with many rare plants. Consequently, it's important to stay on the designated trails.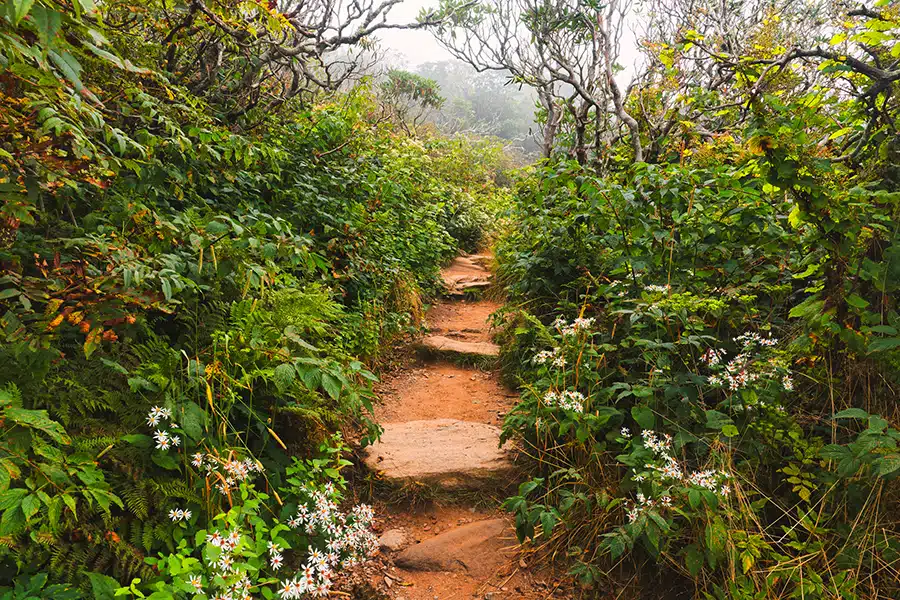 Visiting Craggy Gardens
As mentioned above, Craggy Gardens is a pleasant, 40 minute drive from the front door of Bent Creek Lodge. The Visitor Center is located at 364 Blue Rdg Pkwy, in Black Mountain, NC, or milepost 364.4. Hiking trails and a picnic area are at milepost 367.6.
While there's not really a bad time to visit the area, there's no denying that it is at its most spectacular in spring and fall.
In spring, the area is alive with wildflowers and greening trees. Many plan their visit to the Craggies for early to mid June, prime time for viewing the pink and purple blooms of Catawba rhododendrons. Come autumn, the entire Parkway bursts forth with some of the most magnificent fall foliage vistas to be seen anywhere on the planet.
Visit the National Park Service website for more information.
Spend the day exploring the beauty of the Blue Ridge Parkway and then head back to Bent Creek Lodge for a yummy afternoon treat, relaxing on the porch, or what ever suits your fancy!
What things do you like to do? Let us know and we'll help you make the most out of your Asheville getaway! We love sharing the area with our guests!