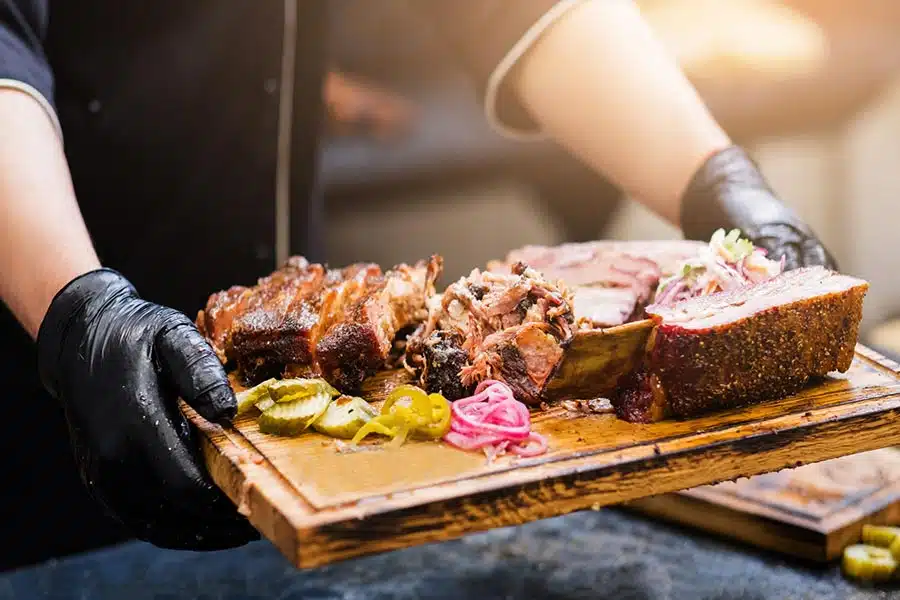 If, like me, you're susceptible to the spellbinding siren song of sweet, smoky, and sticky BBQ, you're going to love Asheville. Call us biased but we think Asheville BBQ is some of the very best there is and we're eager to share our favorite, local BBQ joints with you.
Those curious about the Asheville food scene will be delighted to discover a diverse cornucopia of excellent venues to choose from. Everything from sushi, curry, and kimchi to pizza, tacos, burgers, and all else in between. That, of course, includes a mouth watering selection of popular BBQ joints.
In fact, there are so many BBQ restaurants in the area, it can be hard to choose! Luckily, Asheville BBQ is so top notch that you'd be hard pressed to find any really bad offerings. That being said, some venues appeal more than others and all offer something unique to differentiate themselves from the pack.
Below is a short list of our current, top favorite Asheville BBQ joints. Best of all, each is within easy reach of our Asheville Bed and Breakfast, Bent Creek Lodge. So go ahead, wake to a hearty breakfast at the lodge, spend the day out and about exploring all the Asheville area has to offer, then top it off with a lunch or dinner of tongue-tingling southern BBQ. Don't mind if I do!
Our Picks for the Best Asheville BBQ
Twelve Bones Smokehouse – 2350 Hendersonville Road, Arden, NC
Twelve Bones offers Southern style, slow-smoked bbq and great, scratch-made sides at their huge warehouse in Arden, NC. The location offers both indoor seating and outdoor picnic tables, plus an in-house brewery. Fantastic.
Luella's Bar-B-Que – 33 Town Square Boulevard, Biltmore Park
Luella's is supremely convenient for guests of Bent Creek Lodge, as they're only 10 minutes away, in Biltmore Park! We recommend the pulled pork and sliced brisket and you DO NOT want to skip the banana pudding. Did I mention that every order comes with hushpuppies?
Buxton Hall BBQ – 32 Banks Avenue, downtown Asheville
Southern Living Magazine placed Buxton Hall BBQ among the top six BBQ places in the South, and we heartily concur. I personally love the sauce station, the great cocktail bar, and traditional table waiters. Don't miss a chance to dine here.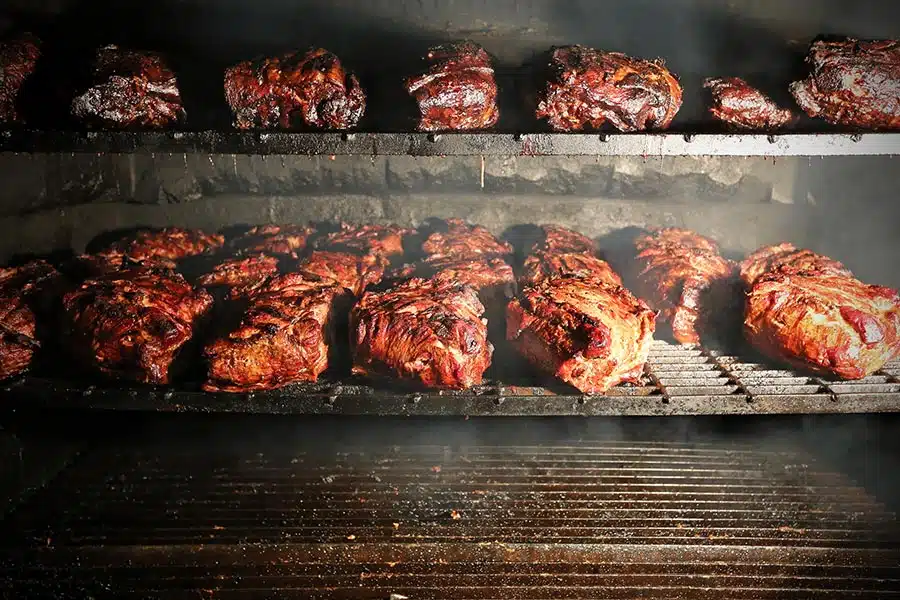 Bear's Smokehouse BBQ – 135 Coxe Avenue, downtown Asheville
Bear's is a newer player in town, with an interesting outside patio and covered lounge to enjoy your food and drinks. I think they serve the best smoked chicken in town and be sure to check out the bear balls. These deep fried delights are made from a combination of mac-n-cheese, pulled pork, cheese sauce, and crispy bacon; a heart-attack of amazing flavors.
In conclusion, no matter whether you spell it BBQ, barbecue, barbeque, bar-b-que, bar-b-q, or just plain "good eats," Asheville has you more than covered. Y'all come see for yourselves!